EVO Live Statistics
Pet Population in SL: 897587
---
EVO*Yukas - Portuguese Forest Fires Aid Pack
EVO Staff as created this Special Starter Pack that Reverts 100% to be donated as Goods to the Portugese Firefighters as well as the Foreigner Volunteer Firefighters and Families Affected by one of the deadliest fires ever.
We are sending the Charity Vendor to everyone that wish to rez, just check notices.
---
COMING ON THE 20TH June - Campists - Relax and Tents!!

Boxes open on the 20th of June
There will be a draw of the OOAK - Each Premium box counts as 1 entry!
---
New Crystalia Fairies and Magic Crystal Grow Mini-Game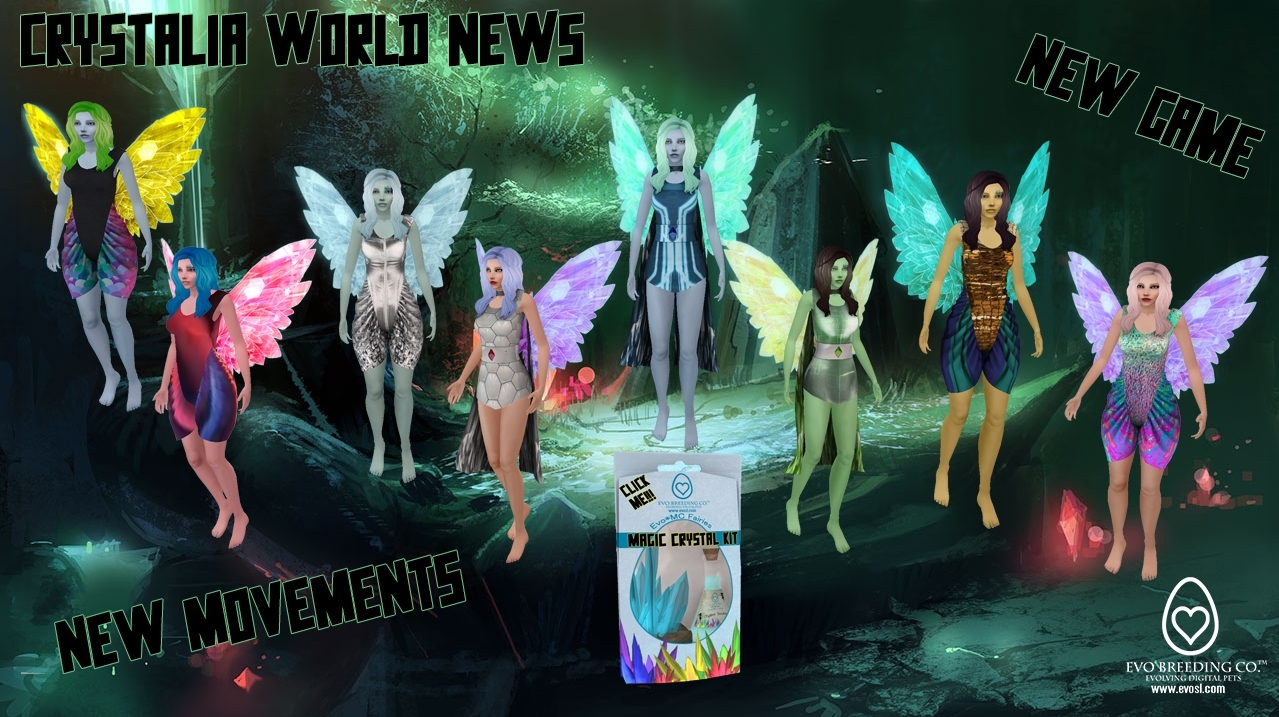 EVO*MC Fairies - Magic Crystals Ver.2017 Readme
---
New Faes on Locked Orbs

New Warrior Fae
- Silent Archer - Golden Orbs
- Forest Archer - Blue Orbs
Friendly reminder : These are WARRIOR faes, don't forget they feed from Armory! If you dont have armory and weapons, they will starve and die. Inside the fae jar, is included this information.
MORE NEWS???
- June Mystery Boxes are available...(All Premium boxes count as 1 entry for the June OOAK fae)
- On the Gacha is the Pirate Queen; (You can't have more than one queen per city or they will fight each other to death, they also stand by the door of the ysra guarding their Kindgom)
- And these warriors need Armory, therefore, Armory will be on sale for a couple hours!
Have Fun,
Rita, EVO Team
---
COMING ON THE 20TH May - Pirates - ARR!!!

Boxes open on the 20th of May
There will be a draw of the OOAK - Each Premium box counts as 1 entry!
---
---
NEW LOCKED ORB FAES

---
New Japan Theme Yukas - In March Siberian Boxes!
---
In each of the 10 HubStores and the Mainstore you will find a Hunt Seal in front of the EVO*MC Vendors, stepping on those once a day (or once a hour during events) will give you a HubPrize.
---
How to Register your EVO Breeder Account?
In our Inworld Vendors on Mainstore or the Hubstores you can find the "Player Menu" button, touch it to access Register, Support and other important information related to our Products. Attention to the name that is displayed in your Register Application, thats your real SL Name, use it as you see to login in the webpage.
Can i keep Fairies without registering?
Sure, registering is only needed for games and Server Delivering, you can have your Fairies happy in your Ysra, however you will not be able to get new items from their Eggs.
---
Yukas, The Cutest Mammoth Alive
EVO Group brings you the Brand New Yuka!! A cute little Mammoth that brings fresh features to breedables. Scripted by EVO, Yukas are aimed to be strong and safe coded, having considered SL and sims random issues. YUKAS PAGE
---
Broken City Walls can now be Upgraded with Building Collectibles
If you dont see an "Upgrade" Button on your Broken City Walls, please touch the "Update" Button and update your Broken City Walls so they can be Upgraded with Building Collectibles.
Broken City Walls (Level 1)
How it works?
The Broken City Walls can now be upgrade with 2 steps, first your upgrade it to Recovering City Walls, and then to Defence City Walls with Golden Pearls, Iron, Fools Gold and Stone Collectibles.
Its works similar to the Recipes, so touch the item and read the info that is provided for more details. But as rule, enable the Upgrade Mode on the City Walls then rezz and touch the collectibles it asks untill its filled. You will receive a the upgrade City Walls from the server and the old one will delete itself.
Recovering City Walls (Level 2)
What the Defence City Walls do?
Defence City Walls (Level 3)
The Defence City walls is the working version of the City Walls Object, with it your City will have a working Weather System that will make crops and gardens buildings florish (New additions to the Cities will be revealed soon) along with that we have added the City Walls to count as Defence System so Warroirs Faes can be counted and used to boost your defence in the Guardians of Valkyra Game and other mini games we release for the fairies.
Display CIty at the Mainstore with Defence CIty Walls and Weather on top
---
Fishing & EVO Pet Owner Register use the same account now
Both EVO*GO Fishing Game and EVO Fairy Guardian Registry is now in the same account, so if you already registered with EVO and if you get a Fishing Rod for the first time, you will have already registered. Same if you are a Fisherman and you joined the Fairy Guardians Community you will not need to register as we already have your account. And soon we will have Fishing Ranking and other information conected to your account in the website so stay tunned on this new features ;).
---
The Mines and the Miners
For those waiting to get your hands in a Fairy Mine, it is now avaliable the regular version in the EVO Fairy Buildings Vendors from the Mainstore or the Hubstores. The mine is required if you want to grab items poduced by the Miner Fairies. This Collectible Items will let you build and level up buildings, along with recipes for those.
Miners are also released and you will need one to start mining ;)
---
You can get them in Second Life at: